Videoserver monitoring
Controlling the situation at the facility using an installed Line video surveillance system has become even easier and more convenient. Remote monitoring and control are performed using the new service "Line Cloud": SMS and e-mail notifications, saving frames on FTP-servers.
These services are not designed to be a complete archive backup via FTP or e-mail. These are immediate notifications sent in case of an emergency, such as the shutdown of video servers, detection of motion in a dedicated area or recording of sound with a built-in or adjacent microphone.
To receive these notifications, you must configure the triggers in Line software and enable the option "Use Line Cloud to send." For example, a user wants to get information about who opened a safe in his absence. Configure the detection zone and condition: if motion is detected near the safe — save the frame with the offender to the FTP-server and send an instant notification to your phone or email. Proper service operation requires intervals within the triggers.
Online monitoring capabilities allow you to:
— browse status logs of all of your servers;
— receive SMS and e-mail notifications in case of an emergency;
— record the time and date of any emergency occurrence.
Connect the free Dynamic DNS service to gain automatic access to all features of online monitoring. See this page for more information on how to configure the service.
Log into Line Cloud and select "Enable monitoring" to activate online monitoring.
SMS notifications
Instant alerts in case of server shutdown or other emergency situations allow you to react promptly and take necessary measres.
Service terms and conditions:
Withdrawal from the overall account balance.
Price of one SMS — 20 cents.
Monitoring must be enabled on a server (temporary condition).
Sending SMS on triggers without connecting to a device server with a SIM card.
Limit — 100 SMS per day.
E-mail notifications
You can configure the system to send e-mail notifications. Since you can receive surveillance camera images to your e-mail, you will be able to see the captured actions of offenders caught in the detection zone.
Service terms and conditions:
limit — 20 messages per minute, 100 per hour, 300 per day;
It is recommended to add this address to your address book.
Saving frames on the FTP-server
The Line FTP-server is designed to store video images and provide easy access to them at any time via the Internet. Archive size is user-defined; important files can be downloaded and stored on a computer.
Service terms and conditions:
Free default storage — 300 Mb. Each additional gigabyte — 10 сents per day.
There are two types of over-limit notifications: more than 80% and more than 99% of storage space occupied.
By default, the archive is not automatically deleted. However, you can configure the maximum days saved to one of the following: 14, 21, 30, 180.
Disk usage statistics on FTP.
Pricing
You can select the desired FTP-server storage space and, accordingly, its price on the home page of Line Cloud using a special slider. The price depends on the space and duration of storage.
Write-off occurs once a day, at night. The set amount will be charged automatically until the account funds have been exhausted, or the client has changed the position of the slider.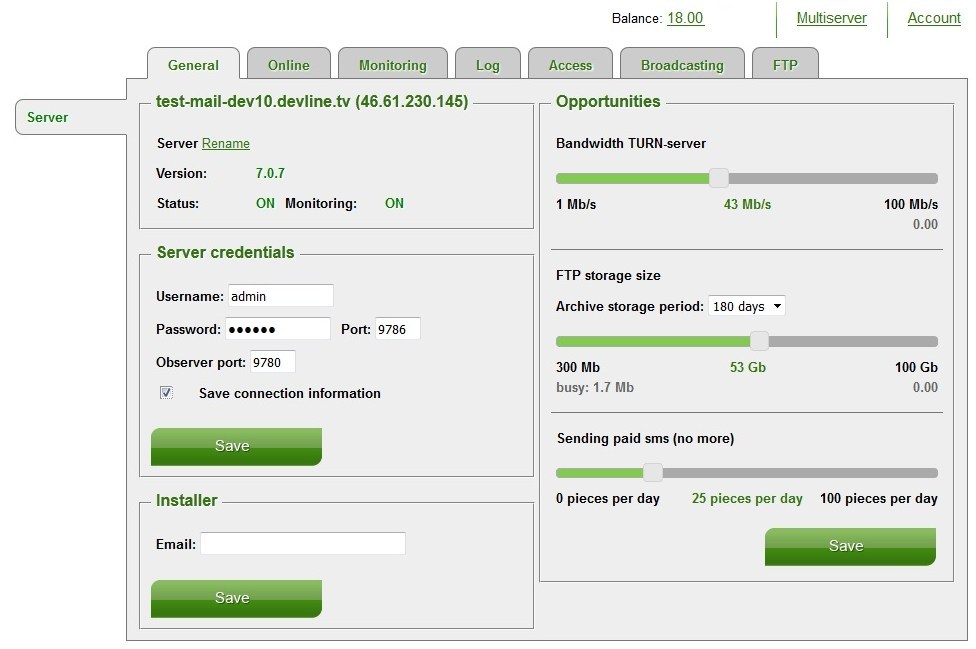 Please note: the maximum amount is always charged each day. If you change the position of the slider to a larger amount, the difference will be immediately applicable. If you change the position of the slider to a smaller amount, the different will not be credited. The larger amount will be charged that night.