Line XVR 4N H.265 (out of production)
| | |
| --- | --- |
| Line XVR 4N H.265 Description | |
Line XVR 4N H.265 is a multi-format video recorder for connecting up to four IP, TVI, CVI, CVBS, AHD cameras. It comes with a Line CCTV system licence.
The device supports 99% of cameras from different manufacturers. Digital cameras are connected according to the list of integrated cameras or via ONVIF or RTSP.
Recording and display using analog cameras is possible with resolution up to 1080N at 25 frames/sec*. When working with IP cameras, the register can process up to 1920x1080 at 25 frames/sec.
You can connect a 12TB hard drive to the video recorder to record archives. HDD and recording settings are automatically configured. You can also set up cloud archive storage.
By connecting monitor through VGA or HDMI ports, you can set up the operator's workstation for local video surveillance. A USB mouse is provided.
Convenient remote surveillance can be provided by a USB modem to connect to the Internet and Line Cloud services using data centres around the world.
Users receive all the features of the Line CCTV system, including 21 free smart video surveillance modules, together with the device.
IMPORTANT! Line XVR 4N H.265 is supplied with Line 8.0 beta version. This device does not support Line 7 and lower.
Name
Video
FPS per channel
Audio
LAN (1 port)
HDD
Line XVR 4N H.265
4
25*
1 RCA/4 IP**
100 Mb/s
1xSATA
Device dimensions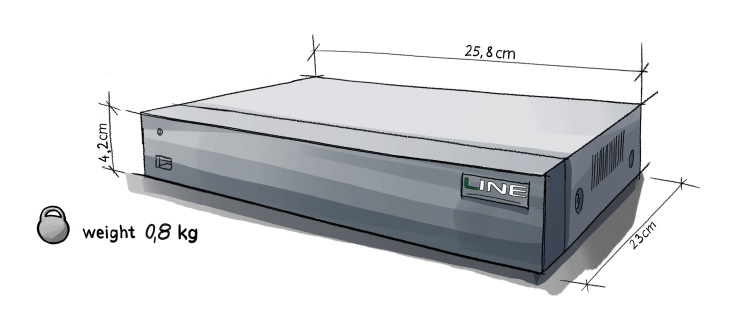 HD-TVI, AHD, CVI

Support for cameras with the resolution up to 1080N.


Two streams

Support the work of the two streams


Video analytics

Filter the Line software archive by detection, object size, and color.


H.265

Record using H.265 for smaller file size


H.264

Record using H.265 for smaller file size


Audio

Support for audio transmission from IP cameras


RTSP

Ability to capture RTSP stream
RTSP output